Iso Poofs are back!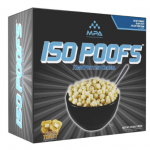 Do to our overwhelming response to our pre-sale last week (over 400 boxes sold in 1 week) of the super popular Iso Poofs (aka Keto Poofs) – low carb, keto cereal snack, we have added a lot more product to inventory!
We are still running a sale for the next week. Enter KetoPoofs10 at checkout for 10% off your order. You can ORDER HERE
Iso Poofs is proud to be the #1 low carb/keto cereal type snack with regards to the lowest net carb count and the highest protein and priced better per serving then any other brand on the market!
Keto Friendly HIGH PROTEIN, Gluten Free, LOW CARB CEREAL or Snack
Less than 1 gram of sugar per serving
Only 1 gram of fat per serving
19 grams of protein per serving
As low as 

1 gram of net carbs per serving!

29 servings per box!
Iso Poofs currently come in 2 amazing flavors: Apple Cinnamon Crunch and French Toast (our top selling flavor).
Because of the demand for more savory type snack flavors, in the next month we will introduce our new savory flavors!
MPA Iso Poofs™ is the perfect snack or cereal for anyone who enjoys satisfying a sweet craving without sabotaging their dieting efforts. In fact, you can conveniently incorporate MPA Iso Poofs™ into your nutrition plan as it would be a sufficient animal protein or whey protein shake replacement.
MPA Iso Poofs™ can be enjoyed as a delicious cereal, accompanied with your choice of fat-free milk, or your preferred milk replacement i.e., (Almond, coconut, cashew milk etc…). You could also use pasteurized liquid egg whites as a "milk substitute" as well.
MPA Iso Poofs™ can also be enjoyed simply as a snack, eaten dry like you would a bowl of popcorn or any "finger food" snack.
Come and try what the low carb and ketogenic world is currently raving about. ISO POOFS!
Enter KetoPoofs10 at checkout for 10% off your order.
You can ORDER HERE