Ketogenics Collagen Peptides and Collagen Creamer contain Types I & III Collagen which provides essential amino acids and proteins in an easy to mix instantized form that dissolves easily in both hot and cold liquids.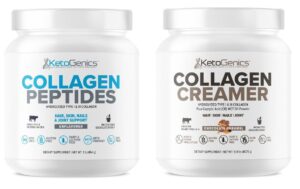 We currently have an unflavored Hydrolyzed Collagen Peptides as well as 3 flavors of our Collagen Creamer: Unflavored, Chocolate Caramel and Cinnamon Vanilla. More flavors will be added to both products soon.
Our Collagen & Collagen Creamer are both dairy-free, hormone-free, grass-fed and pasture-raised.
Hydrolyzed collagen is dairy and lactose free, zero soy, zero gluten and great for those who have issues with dairy based protein powders.
Benefits of collagen supplementation include:
Promote Healthy Skin, Hair & Nails
Support Joint, Bone & Tendon Health
Boost Immune System
Support Gut Function & Digestive Health
Promote a healthy inflammation response
Support muscle and tissue recovery
Our Collagen Creamer contains Hydrolyzed Collagen Peptides with 100% Pure Caprylic Acid (C8) MCT. Caprylic Acid results in the highest production of ketone bodies; 400% higher ketone levels than coconut oil, 255% higher than pure C10 and 21% higher than the regular MCT.
C8 MCT is a rich source of healthy fats with many health benefits that provides rapid mental and physical energy, supports cognitive function, and helps control occasional cravings. We use all natural flavorings and sweetener for the flavored versions.
Both products are super easy to use and can be mixed in water or your favorite daily coffee, shake, or smoothie and various low carb and baking recipes.
Reinvigorate your body and start feeling your best with collagen peptides; grab yours today!