Due to popular demand:
PUMPKIN SPICE FLAVORS HAVE ARRIVED!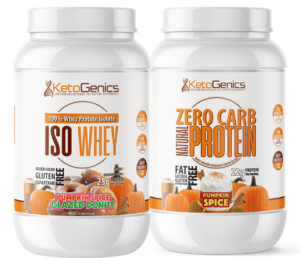 The #1 seasonal flavor! Limited quantities available…order yours now! Visit: KetoShop.com
Get ready for the most scrumptious and delicious tasting pumpkin spice flavored protein powders on the market. There is nothing "basic" about the taste of these 2 flavors!
We have 2 amazing tasting options: Pumpkin Spice Glazed Donut Iso-Whey and Pumpkin Spice Zero Carb Protein.
The taste, texture as well as amazing smell of these delicious protein shakes will really get you into the pumpkin spice season. We use all natural flavorings so there is no weird or fake taste or aftertaste. Use as a tasty meal replacement to boost your protein intake, add to your coffee, low carb yogurt or even make delicious pumpkin spice donuts, muffins or pancake recipes
This is a limited run seasonal flavor so be sure to grab yours and stock up.
To my fellow Pumpkin Spice lovers:
You should not feel basic for loving Pumpkin Spice
Saying sorry, especially for loving Pumpkin Spice, is something that both women and men, need to shake. Let's dedicate this fall season to ending the habit we are not sorry for.
Do it for the sake of Pumpkin Spice. #sorrynotsorry.
Never hide your excitement. You should be able to share your joy with your friends and family and share pumpkin spice and fall images on Facebook and all social media without any backlash. #PumpkinSpiceMatters #Fall #AutumnLeaves
Guys and Gals, don't be shy…….Don't try to conceal your joy.
And most of all, don't hide the fact that you've been waiting all year for this day!
After what a crazy year 2020 has been so far, Pumpkin Spice may be just what this world needs!
"Life starts all over again when it gets crisp in the fall." — F. Scott Fitzgerald